Historically, going to a spa was about taking therapeutic waters, making water a central theme in your full experience. The hot — cold — hot approach of a water circuit has been shown to be of great benefit, and has been practiced for hundreds of years. Relax and unwind in our swimming pool, whirlpools, steam rooms and poolside lounge. We encourage you to arrive one hour prior to your first service so that you may experience the restorative health benefits of water circuit spa therapy. Water Therapies™ at Elmwood Spa enhance your treatments and are recommended and scheduled, whenever possible, before your services.
For answers to questions regarding your Health & Safety during your spa visit,  please visit our COVID-19 FAQ page.
The Benefits of Water TherapiesTM
In the heat of a steam room you will begin to sweat out all the body's toxins. Additionally, the heart rate increases, and blood vessels dilate bringing toxins to the skin's surface ready to be eliminated. Our Eucalyptus Steam Room located in the main pool deck area provides the additional benefits of aromatherapy resulting in muscle relaxation, increased circulation, improved immune system and overall rejuvenation.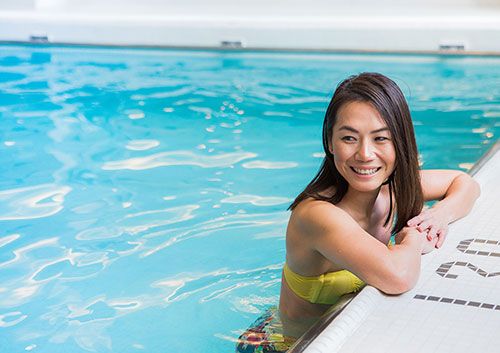 When you plunge your body into cool water following steam, blood vessels quickly constrict trying to move the warm blood deeper into the body to keep you warm. This causes oxygen rich blood to be pushed back to the deeper tissues.
The use of water and temperature changes on the body can improve your mental and physical well-being in addition to be a beneficial way to relax.
Sign up
Don't miss out on our latest news, events, special promotions and much more! Join our mailing list and receive 10% OFF your next booking! *Restrictions apply.